Complete Film Production Services
"An Army Marches on its Stomach"
Film Event, Sporting, And Concert Catering are our specialties. Our film catering mobile fleet consists of 15 state of the art catering trucks and catering support vehicles. Our professional catering staff has over 17 years experience in the food and catering industry.
Food Presentation and Culinary Catering Teams
We want you to remember us just like you want your fans, critics, audiences, and families to remember you. We keep our chefs and mobile staff fresh by rotating catering teams every four days. Our goal is to provide a comfortable, clean, and relaxing meal, be it a BBQ or a seven-course meal!
Cleanliness:
We pride ourselves on a spotless catering fleet, both inside and out.

What we do

We bring the kitchen to you

Where

Anywhere

When

You tell us

Two Meal Format

$20 and up per day, per person. 6 hours between meals.

Three Meal Format

$30 and up per day, per person.

Prices Include

| | |
| --- | --- |
| Standard Items | Optional Items |
| Tables & Chairs | Tents |
| Beverages | Heat |
| Water Cooler | A/V |
| Chaffers | Ice Carvings |
| Ice | Florals |

 

Labor

$350-$500 per day for 2 chefs and support person based on 65 to 90 guests. Labor is negotiable for smaller groups.

Prep Day/Wrap-Up

$200 per day depending on size and location.

Propane, Gas, Diesel, Fuel

Billed at cost, based on receipts.

Travel & Location Changes

Labor and fuel charges determined prior to move(s).

Recycling

We are a "green" company and appreciate your support.

Contracts

Every event is unique, therefore all contracts are negotiable.

Deposit Policy

50% required in advance.
Menu: Menu for lunch and coffee breaks will be as follows:
          Lunch: (Buffet style)
o        Main dish: a choice of 3 hot meals.
o        Weekly menu will be selected in advanced.
o        Vegetables (Sautéed).
o        3 types of salads.
o        Yogurt (when required).
o        Bread
o        Soft drinks
o        Mineral Water
o        Fruits and desserts.
          Coffee breaks: There may be two breaks/ day, each containing the following items:
o        Cookies and biscuits.
o        Coffee
o        Tea.
o        Mineral Water.
o        Fruits
          The Setup:
 o        Full Kitchen equipment will be on site.
o        Buffet style
o        Cutlery
o        Coffee break stand
o        Full staff for cooking, services and cleaning
o        Transfer of equipment and staff to and from locations
This menu is just a sampling of what our catering professionals can do for you!
One Kingdom, Many Opportunities
Tel:
+962 6566 6604
+962 6566 5004
Mobile:
+962 79 888 8388
Fax:
+962 6566 5003
Email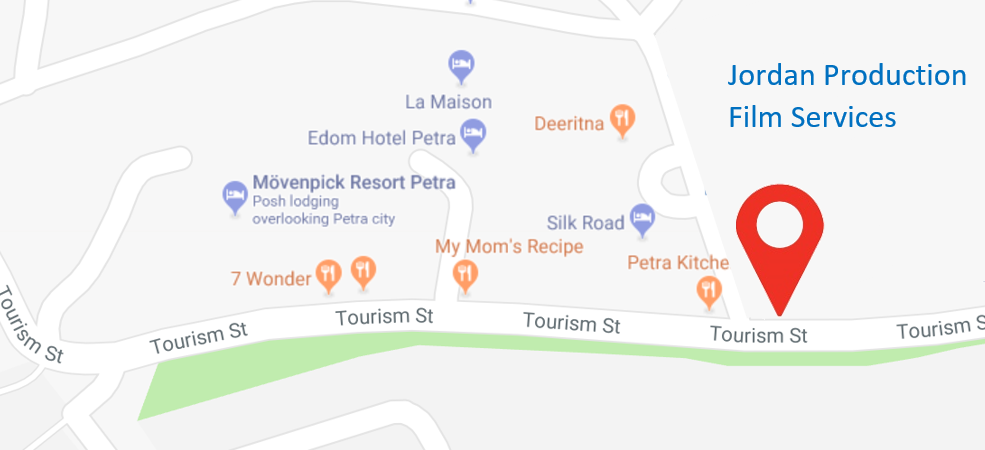 Jordan Production Petra Office
Tourism St, Wadi Musa, Jordan